We are a non-profit project aiming to raise awareness about endangered species through art.  ​​​​​​​The aim is for people to learn about the existence of these species before they disappear, understand their characteristics and the risks these species face. We strongly believe in the idea that in order to care about something, we must first know about it. Only then, we will make a change. 
​​​​​​​
We're facing a major catastrophe in our planet: the sixth mass extinction. According to a report by the United Nations, one million species are at risk of extinction due to human activity. There hasn't been more pressing time than this to act. We want the world to know the faces of the million species at risk and raise awareness one species at a time.
On May 21, we will commemorate the International Endangered Species Day by launching the second round of One Million One Month, running until June 20. All artistic expressions are welcome! 
Follow the calendar below and share your work via Instagram. Upload your artwork on the corresponding day and make sure to include the hashtags so that your work has the opportunity to be showcased in our official Instagram account. 
HASHTAGS:
 #onemilliononemonth + #1m1mvol3
2021 Calendar & Species List
​​​​​​​
Below you can find the Species List and Calendar for the 1M1M volume 3 in both English and Spanish, along with the scientific name for each species. Click on the image to enlarge.

​​​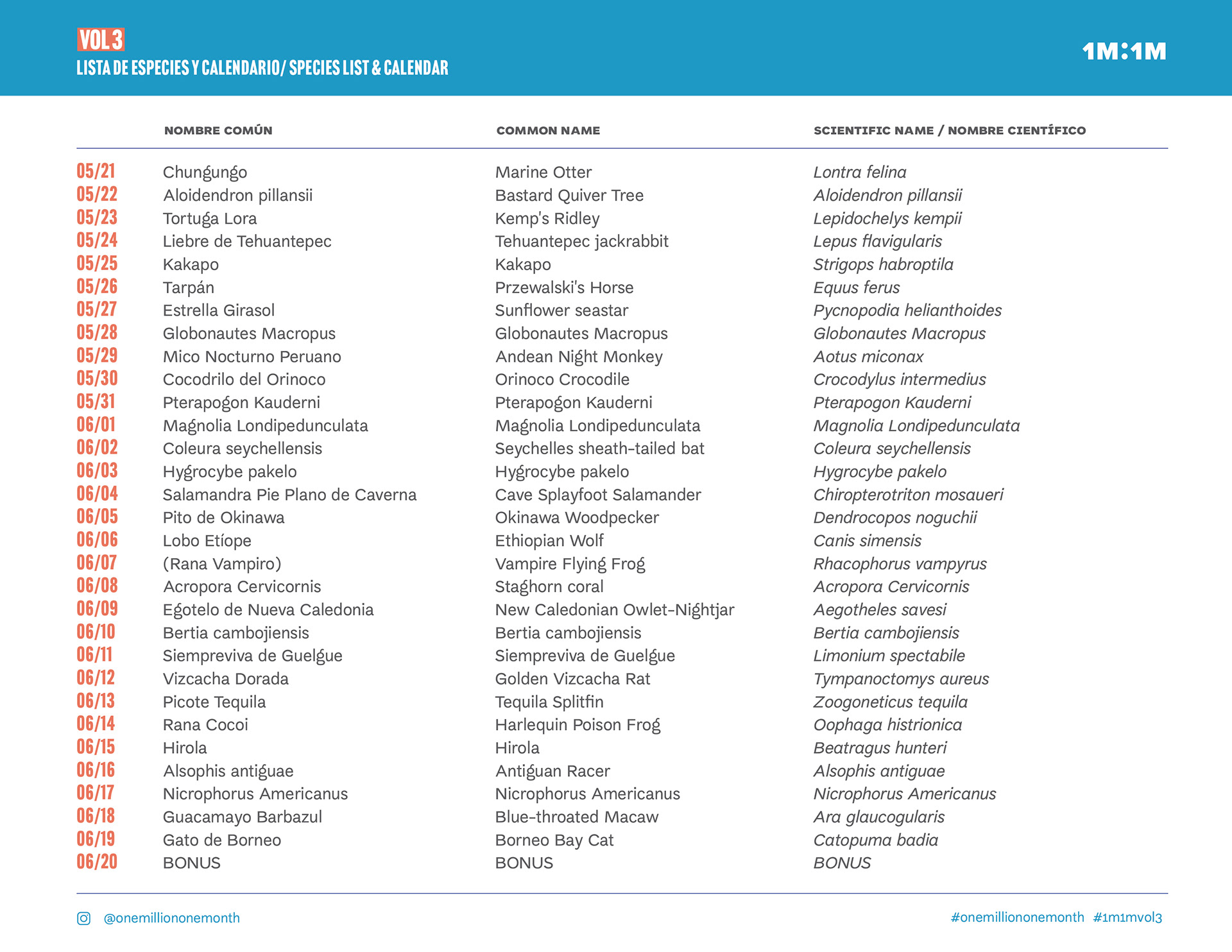 1M1M is a non-profit art project started by Mexican illustrator
Lore Mondragón,
and supported by friends, colleagues and artists. Special thanks this year to David M. Galicia, Lalo González, Carla Santillán, Luis Pinto and Pilar Jacobo Enciso for their support in the production of volume 3, all the species ambassadors that keep this project alive with their time and illustration donation, and everyone who participates and shares our project.